The place for Engineering and Materials
Welcome to the home of Engineering and Materials at The University of Manchester. It is a place like no other where engineers, material scientists and fashion students collaborate, innovate, and make their mark on the world.
Newly built Engineering Buildings A and B sit alongside Oddfellows Hall, James Chadwick Building and York Street Building to form this new development. Unrivalled in scale as a hub of engineering and materials expertise here in the UK, our home combines Manchester's industrial heritage with new, purpose-built facilities, perfect for discovery and solving some of the world's most pressing issues.
Within the new home of Engineering and Materials are four Departments. The ethos here is collaboration and the facilities are geared to unite people from different areas with different expertise to work on real-world solutions to take on some of the challenges we face globally. Our Departments are listed below with links to their websites with more information about what they do and the impact of their research:
It's also home to innovative research, with world class facilities perfect for teams and individuals pioneering and championing discoveries across a wide range of disciplines. Our research institutes include:
Study your way
Inside Engineering Building A and B you'll find hundreds of flexible teaching and learning spaces - whether your interests are in aerospace or AI, or if you want to tackle climate change or clean water... the possibilities are endless.
Embrace the cinema-style, traditional lecture theatres or take in the unique setting of the Blended Lecture Theatres - unlike anything else you'll see in Higher Education in the UK. Theory and practical come together with an adaptable teaching space situated next to a laboratory.
There are even more dedicated teaching spaces including workshop space, other laboratories and a range of study space that accommodates individual and group study. Book a meeting room or grab a booth, you'll also find places to eat and drink.
Supporting students
In Engineering Building A, you'll find our dedicated Student Support Hub. Open 9am to 5pm, Monday to Friday, the team are equipped to help with various student needs from general life enquiries of studying in Manchester to offering course-specific guidance and support.
52
purpose-built teaching rooms
2
large tiered lecture theatres
100s
of new high-quality study spaces
2
dedicated blended lecture theatres
1
dedicated student support hub
Take a look inside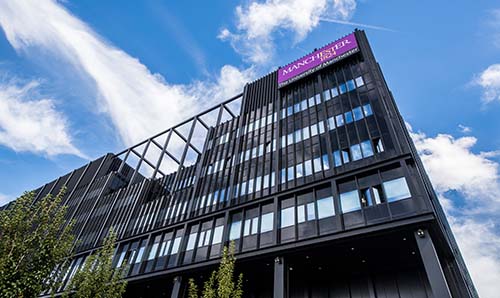 Welcome to the home of Engineering and Materials at the University of Manchester.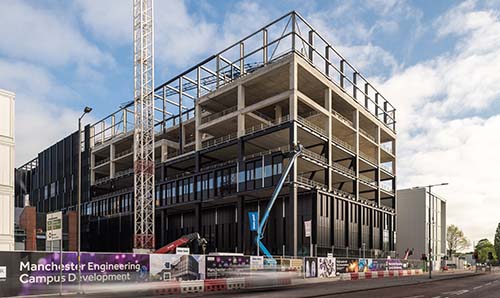 One of the largest higher education construction projects completed in the UK.
Say hello to the future of teaching and learning in our blended lecture theatre.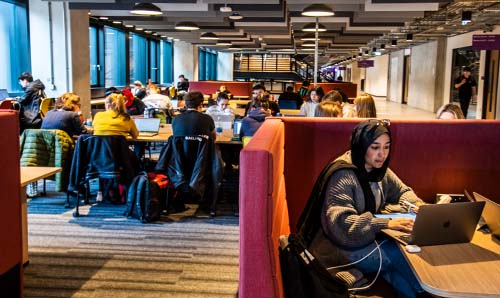 Choose from over 1500 study spaces.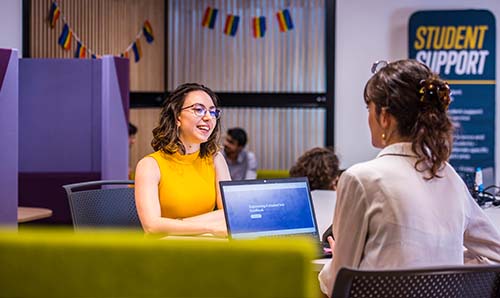 Our dedicated student support hub is now open.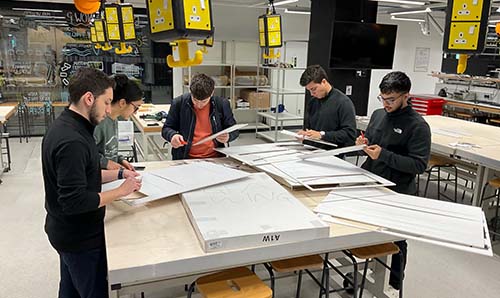 Our Makerspace. It's led by students, for students.
Makerspace
Manchester is synonymous with the Worker Bee and our Makerspace is the hive of activity. It's led by students, for students, as a self-sustainable best-in-class ecosystem of creativity, innovation and entrepreneurship. So, a chemical engineer could be sat alongside a materials scientist working on clean water, or bump into a fashion student developing their own sustainable brand, or an aerospace engineer sending a rocket into space.
It is a place like no other for interactions and one of the biggest communities of engineers and materials scientists in any University in the world.
Learn more about our Makerspace.
Commitment to research
With our world leading research facilities, our staff and students have access to the tools to enable them to change the world. In total, there are over 250 laboratory spaces covering research and teaching, covering 19,000m2.
We've some unique spaces unrivalled in scale and scope. For example, the High Voltage Laboratories are set in purpose built facilities housed in the York Street Building. The research conducted here is designed to ensure the reliable and sustainable supply of energy, while also meeting the desire for reduced environmental impact.
This is the place that is home to a unique combination of research facilities. It's the place where opportunities are to be found and where interdisciplinarity thrives. Some of these unique spaces include:
Flight simulator
Power conversion
Weaving and knitting
Engines laboratory
Microscopy
Additive Manufacturing
Anechoic Chamber
Unmanned Aerial Vehicle (UAV)
Garment studio
Colouration plus many more
Research spotlight: Robotics and Artificial Intelligence (AI)
Researchers in the Centre for Robotics and AI are looking to develop robotic systems that are able to explore in the most extreme environments, such as those found in the nuclear industry, power generation or agriculture. Its work considers both how robots support humans and usage in places too dangerous for humans to go. Other expertise includes designing robots to support digital manufacturing as well as work in the field of medicine and health.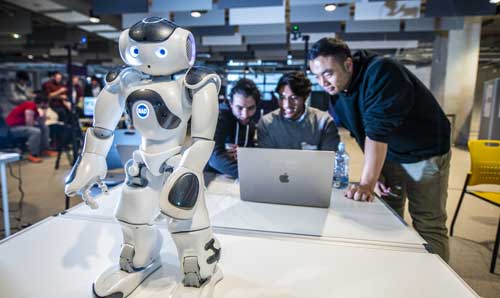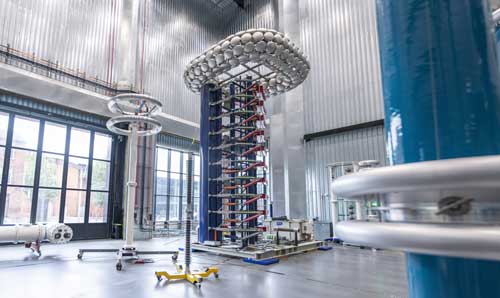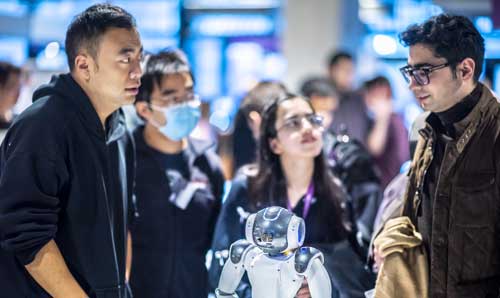 Our North Campus story – the history and relocation
The University of Manchester Institute of Science and Technology (UMIST) can trace its origins to the Manchester Mechanics' Institution, founded in 1824. This was a place where science and technology were fused with industry, an ethos that runs throughout our new home today.
Moving from our historic North Campus site to the home of Engineering and Materials required a moves programme that was monumental in scale and a high degree of complexity. Thousands of pieces of technical equipment and almost hundred laboratories have been successfully relocated to Engineering Buildings A and B, York Street Building and James Chadwick Building. We also relocated around 2000 colleagues and postgraduate researchers throughout 2022. The final laboratories will complete their moves early in 2023.
From concept to construction
Our vision was clear - create a collaborative space, uniting our 8,000 strong community in one place. A nine-year design and construction project saw us partner with architects, designers, engineers and contractors from all over the world, to create state-of-the-art facilities. Throughout the development of this uniquely collaborative space, both students and colleagues influenced the look and feel of teaching and study space, as well as testing new workspace approaches to enhance opportunities for connection and inter-disciplinary collaboration.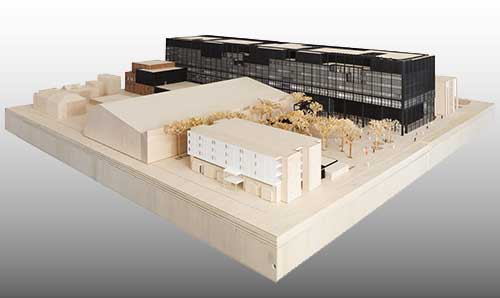 Construction statistics
Seven floors of teaching and research and over 76,000 m2 – that's approximately the size of 11 football pitches.
Largest home for Engineering and Materials in the UK.
£19.7 million of social value was created throughout the nine-year construction project.
Home to over 8,000 students, academics and colleagues.
Home for creation and collaboration for all
Workspace throughout the new home of Engineering and Materials is truly flexible and designed with equality across the community using these spaces at its core. Designed with a diverse range of facilities types, the workspace recognises and provides for different ways of working. This includes:
Bookable meeting rooms and informal meeting areas across each floor for in-person and virtual meetings and larger team meetings.
Designated quiet working spaces, including enclosed call pods, for confidential or sensitive virtual meetings.
Vibrant social spaces to take a break and get away from your desk, eat lunch and socialise.
At least three kitchenettes on each floor.
Active travel hub and shower facilities with drying room.
Welfare and first aid rooms available for a range of different needs.
Opening hours
Engineering Buildings A and B are open at the following times:
Monday 8am – 6pm
Tuesday 8am – 6pm
Wednesday 8am – 6pm
Thursday 8am – 6pm
Friday 8am – 6pm
Saturday - Closed
Sunday – Closed
Getting to know Engineering Buildings A and B
Discover our interactive map
Use our interactive digital map and find your way to study spaces, meeting rooms and lab sessions plus much more including the nearest printer, bathroom and water fountain. Use one of the three entrances to enter Engineering Building A. The south entrance to Engineering Building A can be found off Booth Street East, adjacent to the Manchester Aquatic Centre. From North Campus, the nearest entrance to Engineering Building B is north entrance, on Grosvenor Street. We also have our east entrance open on Rumford Street.
Access to Engineering B through Engineering Building A. Take the link bridge on the second floor. For information for staff and students in the new home of Engineering and Materials, please visit our Engineering Building A & B user guide.
Places to eat and drink
Cafes
Breakfast on the go or lunch to keep you going, our cafes have you covered. Grab sandwiches, paninis, sushi and salads or pick up a warming soup. Fresh pastries available each day as well as muffins and sweet treats to accompany the range of Fairtrade hot drinks.
Restaurants
Beehive restaurant is the new, modern eatery located in the Grade II listed Oddfellows Hall. Offering a fresh, seasonally changing chef-led menu, Beehive restaurants inspiration comes from local, seasonal, Manchester centred produce. These include a selection of fresh homemade meals, alcoholic and non-alcoholic beverages and small plates.

Opening hours are 8:00am - 4:00pm, with food served between 08:00am and 3:00pm.
Bring and Ping
The name gives it away - bring your food and ping it in the microwaves found on the ground floor in Engineering Building A. There's also instant hot water taps for hot drinks and food too.