The place for engineering and materials sciences
We're delighted to welcome you to the new home of engineering and material science at The University of Manchester. Engineering Building A and Engineering Building B are now open to students for teaching and learning ahead of our full opening in September 2022.
Part of the Manchester Engineering Campus Development, Engineering Buildings A and B sits alongside Oddfellows Hall, the James Chadwick Building and York Street Building. Unrivalled in scale in the UK as a hub of engineering and material science expertise, it combines Manchester's heritage as the birthplace of the industrial revolution with new purpose-built facilities that will deliver a step-change in our approach to solving some of the world's most pressing issues.
In the Engineering Buildings A and B, you'll immediately have access to new lecture theatres, bookable meeting and teaching rooms and an extensive range of informal study spaces with both PCs and touchdown spaces for your own device. By September 2022, we'll be fully open with additional research facilities, lab spaces and our dynamic new maker space, where students can let their creativity and entrepreneurial ideas run free.
Take a look inside
Welcome to the home of engineering and materials science.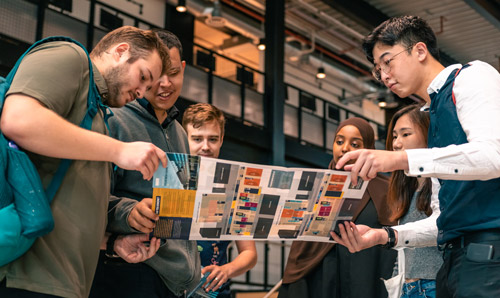 One of the largest multi-disciplinary engineering hubs anywhere .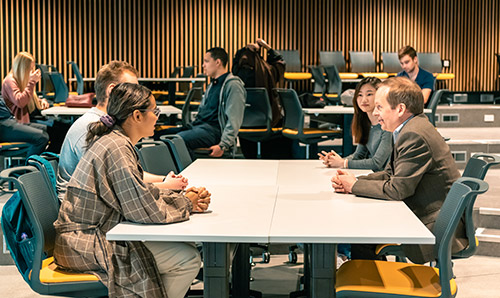 Say hello to the future of teaching and learning in our blended lecture theatre.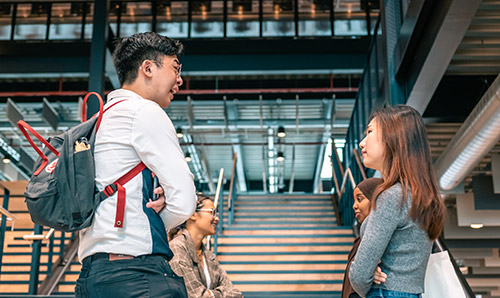 Engineering Building A, is home to over 1,000 study spaces.
Our dedicated student support hub is now open.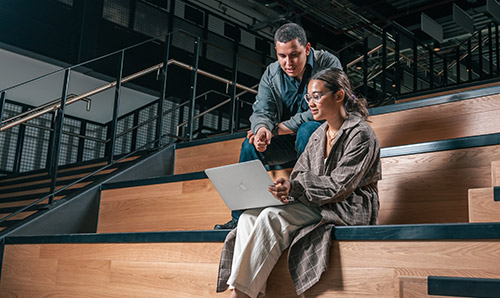 Study your way in our brand new engineering and materials science facility.
Study your way
Inside Engineering Building A and B you'll find hundreds of flexible teaching and learning spaces – whether your interests are in aerospace or AI, or if you want to tackle climate change or clean water… the possibilities are endless.
As one of the largest construction projects undertaken by any higher education institution in the UK, when complete MECD will create a powerful environment the brightest engineers and material scientists in the world, to innovate, collaborate and make a difference. We're not finished yet, with construction of our labs and workspace still ongoing, but from September 2021 our students will have access to:
52
purpose-built teaching rooms
2
large tiered lecture theatres
100s
of new high-quality study spaces
2
dedicated blended lecture theatres
1
dedicated student support hub
Our doors are now open…but we're not finished yet
From September 2022 we will be opening our word leading research facilities and will have moved our people from North Campus into purpose built workspace, and you'll benefit from even more dedicated flexible teaching spaces such as blended learning lecture theatres, workshop and lab spaces, additional places to eat and drink, as well as our incredible Makerspace.
Accessing Engineering Building A and Engineering Building B
The main entrance to Engineering Building A can be found off Booth Street East, adjacent to the Manchester Aquatic Centre. From North Campus the nearest entrance to Engineering Building B is on Grosvenor Street.
Access to Engineering B is via Engineering Building A, over the link bridge found on the second floor.
Opening hours
Monday 8am – 6pm
Tuesday 8am – 6pm
Wednesday 8am – 6pm
Thursday 8am – 6pm
Friday 8am – 6pm
Saturday – closed
Sunday – closed
For staff and student building induction information please visit our new induction platform.
Catering outlets
Connect Café provides a range of delicious lunch and snacking options from sandwiches, paninis, sushi and salads to warming soup, pasties and Jacket potatoes. We've also got fresh pastries, muffins and chocolate to go with our range of Fairtrade hot drinks.
Collaborate restaurant features a fresh seasonal menu prepared by our in house team of chefs. From pick and mix breakfast bowls and breakfast muffins to freshly made salads and warming soups and stews. This Manchester centric restaurant has an evolving menu that will continue to whet your taste buds.